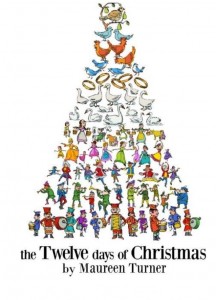 A collection of twelve short stories, it is my interpretation of the age old Christmas Carol of the same name.
Could it be that 'A PARTRIDGE IN A PEAR TREE' refers to feisty Emma Partridges' attempt to save a beautiful Pear tree from the chop? Tackling the tree's owner, ageing rock star Kit Cooper, has surprising consequences.
'FOUR CALLING BIRDS' A spooky tale with warnings of how a woman 'wronged' can find revenge even from beyond the grave.
'FIVE GOLD RINGS' tells the tale of multiple bigamist, David Price and his showdown when his 'wives' meet one another.
NINE LADIES DANCING' How a Latino dancer set the hearts a flutter when he visited the Lower Wallop Tea Dance.
'TWELVE DRUMMERS DRUMMING' continues with a collector of toy soldiers who encounters more than he bargained for when he purchases twelve tin drummers for a knock down price. He'll wish he hadn't bothered.
These along with seven other tales will make you think again about the festive song that we all know and love.
E book available through Amazon:
Paperback version available through FeedARead:  http://goo.gl/2LXJJj